Interviewee Introduction:  Loki is a popular TO Fan Arts drawer as well as a loyal TO players.  For months, he has been creating several excellent art works. TO staff and many players are fond of his drawings. So we'd like to take this opportunity to make an interview with him.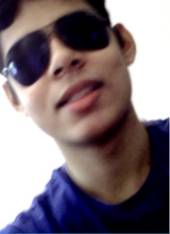 Loki
Dear Loki,

Thank you for taking the time to our interview. We also would like to thank you for all the great Fan Arts you've created, and hope you will continue to sharing more excellent TO pictures with all of us. And you can answer these questions at your leisure

T:  What country do you live in? How old are you?
L:  I'm from Brazil, 18 years age.
T:  Would you please introduce more about yourself?
L:  Well, I'm Brazilian. I love game, write poems, DRAW and football ^^
I am 18 years old. I don't have so much talent in drawing. It's different between talent and ingeniousness. 
I think that I got ingeniousness in drawing.. just it …but I love it.. "Nobody can be perfect ^^" maybe this year I'll start architecture at university.
Well… I don't want know what to say more ^^
T:  Do you have any pictures of yourself that we can see? ^^
L:  Yes : )
T:  You've created many excellent TO drawings, have you ever learned drawing before?
L:  Ya… I drew before but it was another style, landscapes and flowers….I learned alone I'm not perfect I have some difficulties with my drawings…but always I'm trying to improve it : )
T:  When did you start playing TO? Where did you hear about this game?
L:  I started in 2008.. Well nobody told me about TO : )  I was searching some good game when I saw TO.  It's only 150mb lol so I decided to download it to test ^^
T:  What's your characters' max level now? What class?
L:  I'm Tamer lvl 70 : )
T:  Being a more and more popular Fan Arts Star, have you ever met your fans in the game? Lol
L:  TY "Fan Arts Star" hehe …
sometimes anyone pm me and say "Oh Gzz nice drawing" or "I saw your drawing" some friends ask me to draw them lol
T:  What's your favorite drawing style?
L:  Landscapes…I love to draw it ^__^  But now I just draw TO things
T:  What's your feelings about being the Fan Arts Grand Prize Winner?
L:  Sincerely…I didn't like my drawing.. So I quitted drawing for a long time.
When the Fan Arts Event started, I sent some drawings but it was photoshop of SS'.. I won 1st fan arts ^^ with 'Vanillo' from GT too…I started to like it…then I started to send more and more…hehe… I would like to send 50 fan art per month lol  But I don't have time -_-'   It's so cool to Win ^^ I feel lucky : ) second time '-'
I hope to win again #28
T:  Would you please give us some suggestions to improve Fan Arts column?
L:  Hmmm..maybe allow comment : ) That will be cool

Thanks so much ^^  
Talisman Online Editor Team