Equipment Improving
Home>Game System>Equipment Improving
Enhance
What is Enhance?
With your character's level increasing step by step, your Weapon & Assistant Talisman need relevant improvement in their own level to be more powerful to give their owners more help.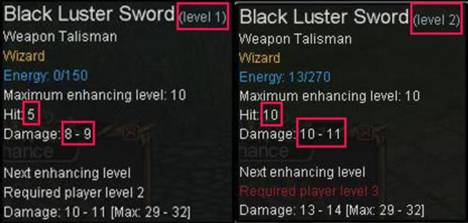 How to Enhance?
Enhance icon can be found directly among the default shortcut keys.


If you remove it from this place but you still need to put it on the shortcut bar, it can be found in Character interface. Press C and choose Act to find it and drag the icon to the shortcut keys bar again: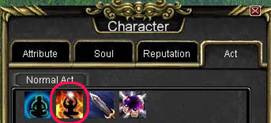 Character can enhance his/her own Talisman at any moment and any place as long as he/her is not in fighting status; Talisman level is supposed to be matched with character's level to have the greatest power to the utmost extent. Weapon Talisman can be enhanced once after character's leveling up each time, while Assistant Talisman need to be enhanced every 2 or 3 improvements of character's level.

Open your Item Box and drag the icon of the Talisman to the blank of the central Enhance interface, Enhance will start after you press "Start". You can choose Stop anytime during the course. Enhance can be executed at any place. Mobs can attack you during Enhance, so you'd better choose a safe time to Enhance to prevent being attacked.

Enhance mainly consumes character's Energy, which can be accumulated through killing mobs and rewards of quest from NPC. The higher the level of Talisman, the more the Energy needed.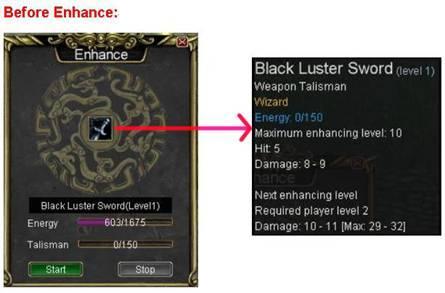 In the picture above, the number 1675 is your current upper limit of Energy; 603 is your current left Energy; the number 150 represents the amount of Energy needed to enhance this Talisman to level 2.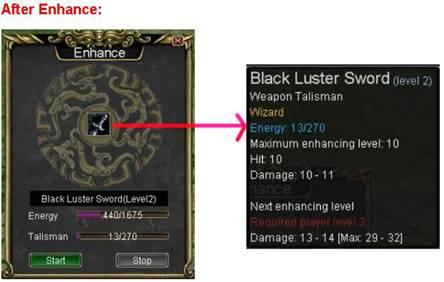 After Enhance, you can see clearly that the attributes of the Talisman have been enhanced. In addition, the number 440 is your current Energy after Enhance; 13 stands for the Energy you have consumed in Enhance of next level. During this Enhance, (603-440)=163 Energy has been consumed, and you can clearly see that the amount of Energy required for next Enhance is more than the last one.

The picture below shows that a higher-level Wizard is enhancing his Weapon Talisman Raging Fire Sword. During Enhance, the unequipped sword is flying around him with cool strong light.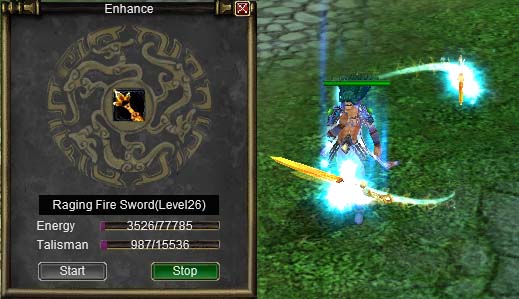 Apparently, Enhance is a necessary and important thing for players to grasp. To make sure you have enough Energy, please try your best to kill mobs and finish quests. Besides, you can also get additional Energy from Master & Apprenticeship system, Group Arena or Guild system and so on.