Talisman & Skills
Home>Game World>Talisman & Skills
Intro
What is a Talisman?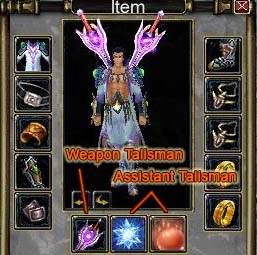 The Talisman is a kind of special tool which can strengthen characters' power greatly.  There are all kinds of skill on the Talisman.The level of the Talisman can be      enhanced with energy, thus to get skills that are more powerful.  (Talisman Enhancement / Mergence / Combination) The Talisman are classified as Weapon Talisman and Assistant Talisman.  One character can be equipped with one Weapon Talisman and two Assistant Talisman in the same time.
What are the levels of the Talismans?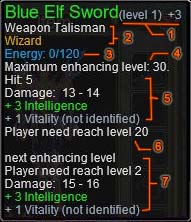 Move your mouse point to the Talisman, it will show the property automatically.
1: Talisman's current level and Plus Rank (If it has this rank).
2: Talisman's type (weapon or assistant) and user's profession.
3: In current level, how much Energy had filled into Talisman and how many Energy totally need to level up.
4: The highest level the Talisman could reach.
5: The effect attribute of the Talisman
6: Player's level required to use the Talisman.
7: Next level's information.
How to equip the Talisman?
It is the same as common equipments. You can draw it from item box to the Talisman column, or right mouse click it to equip. But the Talisman can be only equipped in its special part for equipping, the corresponding Talisman column. The player can't equip with the Talisman, which has higher level than his own level. The Talismans can't be equipped or removed when the player is under the fighting situation.
How to use the skills on the Talisman?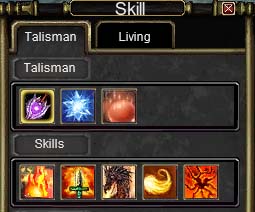 Open the skill interface (click the Operation Button or press "s"), the equipped Talismans and the related skills will been seen on the interface of skill. Draw the skills icon into the shortcut or hotkey column, and then the skills can be used by mouse click or corresponding hotkey.