Beginner Guide
Home>Basic Knowledge>Beginner Guide
Level 20: Show Your Talent
Courage quests and Courage Badge exchanging
After experience all above things, you may level up to level 20.  At this moment you can go to Stone City and look for NPC Courage Herald to accept Courage quest.  It requires you to challenge BOSS in scenario Rattan Cave which is not too difficult, just team up to finish it.  Then Courage Herald will reward you Courage Badge which can be exchanged for rare and precious items.
Your first mount
Mushroom Village on the north of Stone City is fit for players whose level is level 20 or above.  Through a series of quests in Mushroom Village and going to scenarios Rattan Cave and Snake Cave once in a while, you will become level 25 in a short time.  At that time, you can accept a quest to get free mount at NPC Immortal Lee in Stone City.  Finish the quest to get the cool mount below: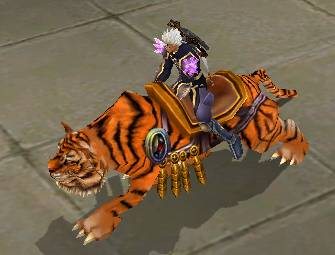 Mutual quests
Meanwhile you can also get your first mutual quest from NPC Mutual Quest Woman.  It requires you to strike down the BOSS in Happiness Hall (level 25 scenario) and it can be done only once in a day.  It has abundant experience and energy rewards, so don't give up.  Just turn to high level players for helps, most of them will help you with pleasure!
Combine equipment and faster level-up
Quests above level 25 usually require player to wipe out more monsters and even elite monsters.  If you want to level up faster, you can combine some equipment to level +3.  Then you are much stronger and will wipe out monsters more efficiently.
Graduate from master
When you reach level 30, you can graduate from master.  It indicates that you can take charge of something by yourself and you can recruit your own apprentice now.
Welcome to discover more exciting things in game!