Game Events
Home>Game Events>System Events
System Events
System Event: Collect Celestial Pearl


Best Lev.: 15 (and higher)
Quest Giver: Immortal Lee

Time (PST):
Tue.: 19:00 ~ 20:00; Thur.:13:00 ~ 14:00 ; Sat.: 07:00 ~08:00

Desc.:
A. 15-25: Celestial Pearl of One Star  20
B. 26-36: Celestial Pearl of Two Stars  20
C. 36-60: Celestial Pearl of Three Stars  25
D. 61 and higher: Celestial Pearl of Four Stars  25

Rewards:

A. 5000 Experience / 50 Silver / Ice Moon Cake (1)
B. 10000 Experience / 1 Gold / Ice Moon Cake (1)
C. 18000 Experience / 1 Gold 80 Silver / Ice Moon Cake (1)
D. 30000 Experience / 3 Gold / Ice Moon Cake (1)
System Event: Junior Race


Best Lev.: 30-40
Quest Giver: Junior Racing Admin
Time (PST):
Mon.: 19:00 -21:00 Wed.: 13:00 -15:00 Fri.: 07:00 -09:00

Desc.:
To run across all 52 Check Points one by one.

Rewards:

1. 20,000 Experience
2. 20,000 Energy
3. 15 Silvers
Top 5 players can be reported in in-game rumor channel
System Event: Senior Race


Best Lev.: 41 (and higher)
Quest Giver: Senior Racing Admin

Time (PST):

Mon.: 19:00 -21:00 Wed.: 13:00 -15:00 Fri.: 07:00 -09:00

Desc.:
To run across all 146 Check Points one by one.

Rewards:

1. 100,000 Energy
Top 5 players can be reported in in-game rumor channel
System Event: Guild War ( Lev 7 or higher Guild )


Best Lev.: 40 (and higher)
Quest Giver: Bulletin Board of Guild War

Time (PST):

Tue.: 13:00 -14:00 Thur.: 07:00 - 08:00

Desc.:
During Guild War, the two rival guilds can kill the members of the other guild without getting PK Value. The result of the battle will be put on the bulletin board.

Rewards:

1. Raise guild's prestige
2. Enhance guild's cohesion.
System Event: Phoenix City War


Quest Giver: Phoenix City Royal Envoy in Stone City (61, -512)

Time (PST):

Register: City War ends ~ 24 hours before the next City War

City War Time: Starts at 8:00 Sat.

Desc.:
To occupy and seal the Sealed Tower before the end of City War. The winner guild will be crowned as 'Master Guild'.

Rewards:

1. Obtain revenue from NPCs in Stone City.
2. City Master guild and ally guilds of defense side can enter Phoenix City Hunting Ground to hunt. Only summon BOSS during 10:00-12:00 every Saturday. Defeat the BOSS to get 100 treasure boxes which contains many precious items.
3. Each member of City Master can get a buff;Phoenix City Glory; to get an increase in HP by 5%.
4. Get 5000 Guild Prosperity.
System Event: Elite Guild War
War Time (PST): 08:00-09:00 Tuesday and 12:00-13:00 Thursday
War Site: Elite Guild War area
1. Apply for the war by clicking Guild War Bulletin by NPC Bulletin Board of Guild War (Stone City) or Guild panel.

2. Check Bulletin Board of Guild War (Stone City) before the war starts, apply for the war, choose guilds to which you want to declare war, click "Challenge".
3. A window will pop up when applying for Guild War or Elite Guild War. Choose Elite Guild War, confirm it and pay 20 gold to declare war successfully.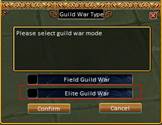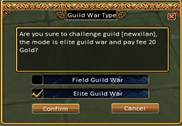 4. Only players who are in the name list can join Elite Guild War. Guild members can also check whether they are in the name list of Elite Guild War (Guild leader is must in the name list).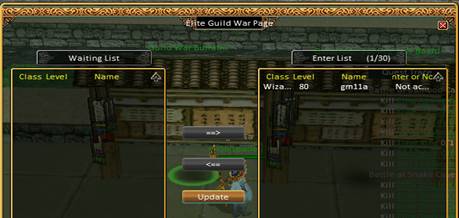 5. When the war starts, teleport to war site by NPC Bulletin Board of Guild War. In war site, players can attack guilds of opposite side or move to defense area.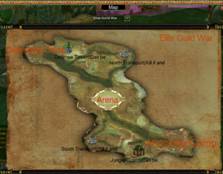 6. Check war result and personal scores in Elite Guild War panel
7. If score difference value between two sides is more than 20 and total score is more than 100, it meets the requirement of award and punishment.