Characters
Home>Game World>Characters
Character Interface
Character's attribute interface is an important part, from which you can know about your character's current basic states, soul experience & skills, reputation details etc. The picture below tells you the detailed contents contained in Character's attribute interface.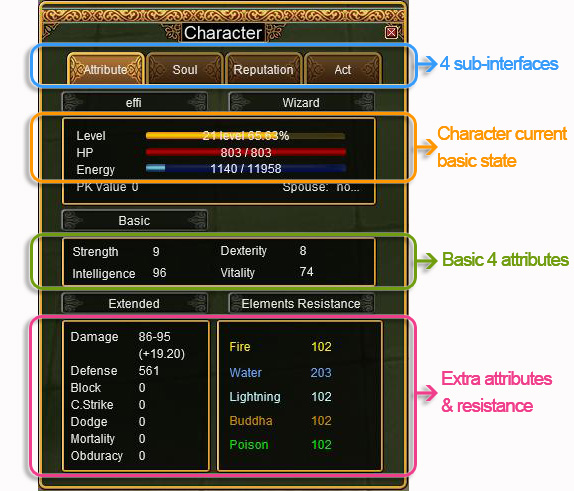 How to open my Attribute Interface?
There are 2 ways to check your Attribute.
The icon is set in your in-game shortcuts bar by default, so you can just select this icon to open this interface.

Another quick way is to press "C" to open it directly. Both are very convenient.

Now let's move to the details about the sub-interface – Attribute Interface:

As we can see from the picture above, it shows clearly the details of your character's current attributes, resistance and other important elements.

Level: character's current level and current experience he/she has accumulated for next level
HP: character's Health Point
Energy: it's necessary to enhance your Talisman
PK Value: kill one character = 150 PK Value Fatigue and Spouse are not available now.
Basic:The four attributes showed below Basic are the basic 4 character's respective main attributes.
Strength: Monk
Dexterity: Assassin
Intelligence: Fairy, Wizard and Tamer
Extended: The 5 attributes from Damage to Dodge are character's extra battle attributes.
Elements Resistance: the 5 basic resistance elements. The number stands for the decrease from the targets using the same kind of attack.