Player Bonus
What is TO Lucky Egg?
TO Lucky Egg is a special item for players to open and get useful stuffs when they reach certain levels. Various types of stuffs are hidden in this egg, such as combat potion, identification gem and valuable combination gems!
Currently, TO Lucky Egg is classified to 8 levels. Each TO Lucky Egg contains the egg of the next level.
How to get TO Lucky Egg?
As a quest reward, TO Lucky egg is easy to get. When you've created a character and entered the game, you are recommended to visit a nearby NPC Talisman Fairy. She will offer you a level-1 quest named [Birth Gift].
After you kill a little wild boar as the quest requires, then visit Talisman Fairy again to report the quest. Then she will give you a TO Lucky Egg (1) as your reward. Please note that [Birth Gift] quest cannot be done repeatedly.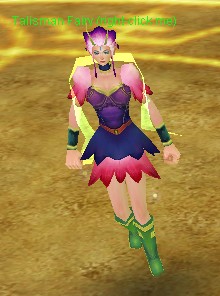 Talisman Fairy
How to Use TO Lucky Egg?
Character level is the only requirement in opening TO Lucky Egg. When your character reaches a certain level, he/she is able to open the TO Lucky Egg to gain corresponding items.
After you've opened TO Lucky Egg (1), you will get a TO Lucky Egg (2) in your Item Box. To open TO Lucky Egg (2), your character must gain level 8. The related details are listed below.
Hint:
TO Lucky Egg cannot be deleted or stored in Warehouse.
Please make enough space in your Item Box before opening the Item Box.
All items gained from TO Lucky Egg are bound.
No.

Name

Need Char. Level

Rewards from the Egg

Amt.

1

TO Lucky Egg ( 1 )

Lev 1

Fighting Healing Potion ( lvl 1 )

5

Golden Light Pill

2

Apothecary Pill

2

TO Red Bag (2)

1

2

TO Lucky Egg ( 2 )

Lev 8

Jackstraw

2

Adv. Golden Light Pill

1

Adv. Apothecary Pill

1

TO Red Bag (3)

1

3

TO Lucky Egg ( 3 )

Lev 15

Fighting Healing Potion (lvl 2)

5

Green Identify Gem

2

Adv. Golden Light Pill

2

Adv. Apothecary Pill

2

TO Red Bag (4)

1

4

TO Lucky Egg ( 4 )

Lev 25

Pet Food

3

Small Lucky Bag ( 7 days )

1

Small Emerald

1

Small Ruby

2

TO Red Bag (5)

1

5

TO Lucky Egg ( 5 )

Lev 35

Fighting Healing Potion (lvl 3)

5

Pet Food

3

Phoenix Jackstraw

2

Medium Ruby

2

TO Red Bag (6)

1

6

TO Lucky Egg ( 6 )

Lev 45

Blue Identify Gem

2

Pet Food

3

Small Lucky Bag (30 days)

1

Medium Emerald

2

TO Red Bag (7)

1

7

TO Lucky Egg ( 7 )

Lev 55

Hamadryad Hierogram

1

Instant Full Healing Potion (lvl 1)

1

Titanium Stone

1

TO Lucky Egg (8)

1

8

TO Lucky Egg ( 8 )

Lev 65

Instant Full Healing Potion (lvl 2)

1

Elite Energy Stone

1

Titanium Stone

1

TO Lucky Egg (9)

1

9

TO Lucky Egg ( 9 )

Lev 75

Titanium Stone

2

Large Ruby ( unbound)

1

Large Emerald ( unbound)

1