In-game Community
Home>Game System>In-game Community
Team
What is Team?
Team spirit is always the key to success, so it can never be neglected by a Talisman hero in pursuing his/her success!
You are sure to feel helpless or hopeless when facing mighty BOSS and exploring Scenarios alone; you may sometimes feel lonely or bored when do quests. In that case, why not find partners to achieve goals together? Team system cannot only help you find suitable teammates to share your burden, but also to give you a way of meeting friends!
Player can form a team and join a team freely without the restriction of profession or level.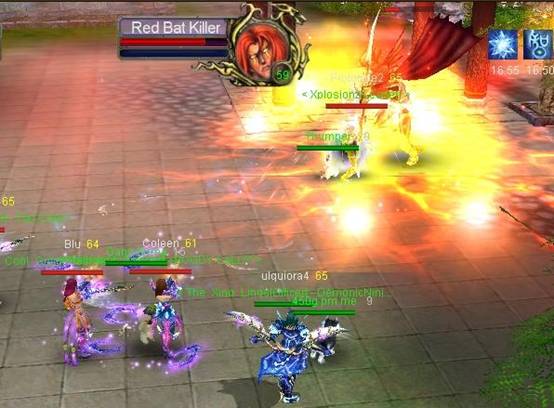 How to have a Team?
There are 2 ways to have a team, one is to create your own team and the other is to join other's team.


1. To create a team:
A team can have a maximum of five players. A team is created as soon as one other player joins you. Here are some tips of inviting players.
Select a player and right-click on his/her avatar, then click Team up from the resulting dropdown menu. Now, what you need to do is to wait for invitee's reply. If invitee clicks "OK" as agreement, he/she will join in your team automatically. If invitee doesn't want to join your team, you will get a message telling his/her rejection.
If a player is far away from you or you are in different area, so you cannot select his/her avatar, don't worry. You can first add him/her to your Friend List, then right-click the name to choose Team up.
Another way is to take advantage of chat channel. The most rapid and effective way is to put your demand in world channel to call partners. In this way, some players with the same unfinished quests will whisper to you, then you can right-click his/her name to team up.

The one creates the team becomes the team leader.
A player already in another team cannot join yours. If you send an invitation to a player having a team already, you will get a message back saying he/she is already in a team.
2. To join a team:
If you are invited into a team, you can accept or decline the invitation by clicking "Ok" or "Cancel" button
Team Leader & Member Options

As a team member, please select your member's avatar and right-click on it to see what options are available to you. Some options are only available to the team leader.
Only team leader has the right to remove a player from the team. And leader can promote one member to be team leader. There is a crown icon shown above the leader's avatar to show his/her identity and prestige.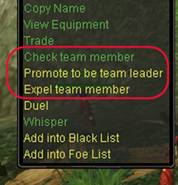 2. To leave & dismiss a team
Having a team is freely, so is leaving a team and expelling a member. The team leader can select the team member's portrait and right click to select "Expel team member" to remove teammate.  For team members, they can select their own portrait to select "Leave the team".

Rule and Advantage as Team Member:
Now let's move on to the rules and advantages about Team system.
Team Rules
Experience, Energy and money are shared by all members. For a member to get them, they must be within a certain distance from a kill. Money can always be divided up averagely, but the amounts of Experience and Energy depend on the level gap between the target and your level. Besides, the best way to get a maximum of killing rewards is to team up players around the same level, but a player with vastly higher or lower levels can still get some experience.
Remember that kill number is also shared by members with the same quest. For example, if you need to kill 10 Apes for a quest now, then you'd better team up with others to help you kill together. If your teammate killed 2 Apes after joining your team, then you would find that your own killing number of Apes shown in Quest List is 2 even if you killed none! So, it proves clearly that team is a good and effective channel to level up and accomplish quests in a quicker and safer way!
Please note that team members do not share quest rewards. In any case, rewards for accomplishing a quest are given to an individual player who has finished the quest.
**Pick Mode Options**

When the monster's body sparkles you are allowed to pick up the drop item from the corpse. There are three pick modes for a team, and only team leader has the right to set these modes.
Free - This mode gives all members the chance to pick up. The first picker will pick the drop item. If more than one little pet with the skill of Auto Pick compete to pick the drop for their masters, the quickest one will get them. This mode is recommended if no one cares who gets what.
Dice (default) - In this mode, all members must try to get the drop through Dice. Everyone gets a pop-up box on their screen with the item and two options of Dice and Abandon. Anyone who waits without choosing until the green bar disappear automatically passes the chance. The dice number ranges from 0 to 100, and of course, the one with the highest number gets the item. And it only depends on luck! If your members all abandon to dice, then the item must be yours!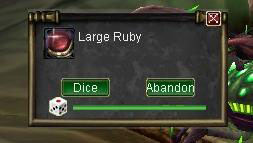 Teamleader - This mode allows the team leader to pick up everything and enable the leader decide who should to get items, and what items his/her members should get.
No matter in what mode, the information about what is picked by whom can be seen in your system message box.
**Distribute Mode
Distribute mode determines the quality level of items that are related to the modes above. Pick Mode is only available to the quality of drop item which equals to (or above) the one you set in Distribute mode. For example, if a team wants to set the distribution to blue items in Dice mode, then green and white drop items from the corpse will be dealt with in Free mode.
Independent Chat Channel for Team
There is an independent channel to avail all members in a team to chat for better communication.
Location of Members
The mini-map shows the little blue dots showing where to find current team members. Move your cursor over the dots see who is who
Another way is to check from the big map, on which all your members' locations are marked by blue heart-shaped marks.
Never forget in TO, you will never be alone.
Teamwork to Survivial, Talisman to Victory!