Newbie Guide
Home>Basic Knowledge>Newbie Guide
Newbie Guide
How to start the game
In the world of Talisman Online, there are five characters for you to choose from. You may choose Wizard, Monk, Fairy, Tamer, or Assassin.
First of all, you need to give a name to the character you create. You can choose different face styles and hair styles you like to make your character look cool and unique from other players.
You can create three characters at most under one account. If you want to try more characters you need to register a new account. Choose the character you created, and then you can enter the server through this character and begin your adventure.
About hotkeys
C=attribute     (open/close the attribute interface to check character's information)
I=item             (open/close the item interface to check character's items)
M=map           (open/close the map interface)
S=skill            (open/close the skill interface to use different skills of both Weapon and Assistant Talisman)
T=quest          (open/close the quest interface to check the details of unfinished quests)
F=community (open/close the community interface to check information of friends and others)
Enter=chat     (open/close the chat bar)
ESC=system (open/close the system interface set the system mode)
1-0 are hotkeys of some skills, acts and useful things.
About playing the game
Starting place: Green Scarp
Green Scarp is green all the year round and is a nice quiet place for Master to have rest. It consists of four major places: Square, Back Mountain, Secret Cave and Piedmont. All of the five characters are born in the Square of Green Scarp.
How to accept quests
When you enter into the game, you can press "C" to check the attribute of the character. "Level" refers to the percentum of experience accumulated to level up. "HP" means character's health points, while "Energy" can be used to improve Talisman's levels. There are some other attributes such as "Strength", "Dexterity" etc, which can be improved after level up or equipping related items. To begin the game with a new character, the first thing to do is to find the NPC with a excalmatory mark over its head which means this NPC has quests for you to finish. Go to the NPC, right-mouse click it and accept quests after talk.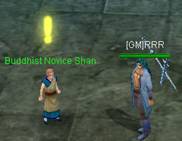 If you failed to find where to go to do the quests, you might open your quest interface to check and go to the right place with the help of map. Press "T" to open your quest interface and choose the quest you need to finish in the left part, then click the quest and a map with a blue star will appear. This star represents the right place to finish the quest. You can also find the NPC to notify and other related places in this way.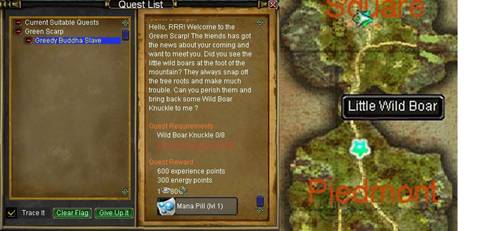 You can get some Experience, Energy and money through killing most of the monsters. After killing each monster, you should right-mouse click it to check if there are additional drops to pick. In addition, you can see "Trace it" in the bottom of the quest interface. Click a quest and choose "Trace it", then name and related number of this quest will appear in the right of the game interface for your reference. After finishing the quest, this information will be yellow.

After finishing quests, you need to notify to the right NPC with an interrogation over its head to accomplish it. You can also check this in your quest interface. After notifying quests, you will get relevant rewards such as: Experience, Energy, Money and some equipments. The speed of level up depends on the percentage of Experience, and there is a stick of percentum of Experience below your game interface for your reference. If you don't like to accomplish quests, you can also level up through getting experience by killing monsters without reward.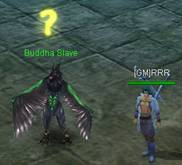 If you failed to find the right NPC, you can open your quest interface and click the "Current Suitable Quests" to find the place of NPCs and quests which are waiting for you with help of map. There is a small map in the top-left of the game interface, it shows your surrounding condition for your reference.
For more details, please go to http://www.tailsmainonline.com/gameSystem_quest.html (Press Ctrl when click) to have a look.
How to kill monsters
A character is created with a born Weapon Talisman, and the skills of which are put on the hotkeys 1 and 2 as default. Key "3" is normal attack. You can press 1 and 2 to use the skill or click them. Besides these, there are other hotkeys for you to choose such as heal to sit etc.

How to increase HP and Mana
Each new character has Newbie Healing Water

and Newbie Mana Pill

in the Item box ( they are also placed on the hotkeys). The former one is used to increase character's HP with 5 HP each second and the latter one is to increase Mana with 8 Mana each second. You can also buy them from the NPC Buddhist Novice Qing in the Square of Green Scarp with the money you got by killing, and you can also sell unuseful items to him to get money.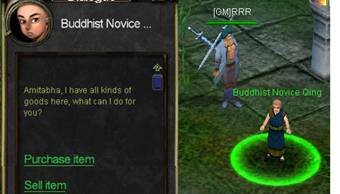 How to equip the item
After accomplishing quests or killing some mobs, characters can gain some items for them to equip. All items will be stored automatically in Item box. First, press "I" to open the box, then mouse-right click the item you need to equip, then it will be equipped and appear in its own place above. All items as quest rewards are bound, so they cannot be traded.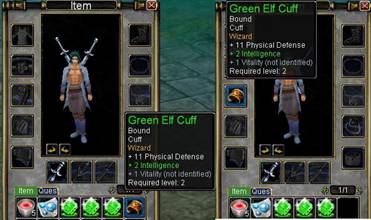 How to enhance
The level of Talisman can be improved with the level of character. For example: if character goes to level 2, you should enhance the Talisman to level 2 to make it stronger.
With certain amount of energy, you need to enhance your Talisman to improve its level and to be stronger. Open the interface of "Character Attribute", select the "Act" label and then the "Enhance Talisman" button, then you can enhance your Talisman (or press the hotkey). What you need do is to put your Talisman into the blank in the middle of the "Enhancing Talisman" Interface. You can enhance Talisman at any moment and any place as long as the character is not fighting against others; Talisman level has to be matched with character's level. Enhancing will consume the character's Energy, the higher level to enhance, the more the Energy consumes.
For more details, please go to http://www.talismanonline.com/gameSystem_itemForge.html (Press Ctrl when click) to have a look.
How to use Assistant Talisman
Character will be rewarded an Assistant Talisman when reaches level 5 and completes a related quest. Press "S" to open your skill interface and choose the Assistant Talisman, all of which skills will be shown below. Click them is to use them. You can move your cursor to the skill, then press the mouse to drag it to the hotkeys or other blanks in the interface as shortcut like the skills of Weapon Talisman. When your character reaches higher level, you will get points of Inherence, you can click the skill to put the points on the skills to improve their levels. The maximum points of each skill is five.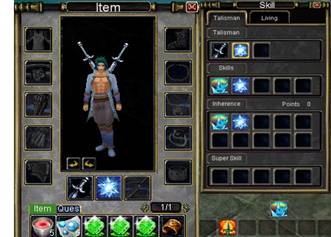 The icons of two kinds of shortcuts

Go down mountain
When reaches level 5, the character will be allowed to go down the mountain and go to Sky Village to start a new stage of adventure.
The new place: Sky Village
Sky Village is to the south of Green Scarp and it also consists of four places: Sky Village, Snake Swamp, Southern Wasteland and Black Campo. There are many important NPCs in the central part Sky Village, and you can do some new things with help of them.
How to identify
Some Talisman and Defense Gear have additional Vitality and Intelligence or other attributes added which make them stronger. But some of these attributes must be identified to have a plus on them and you must go to the Blacksmith's to identify. Identify needs Identify Gem, and there are three colors of which. With different degrees of equipments, different kinds of Identify Gem are needed. The Green Equipments need Green Identify Gem, Blue Equipments need Blue one and Golden Equipments need golden one. One Gem can activate one piece of gray attribute.
For more details, please go to http://www.talismanonline.com/gameSystem_itemForge1.html(Press Ctrl when click) to have a look.
How to form and join a team
Sometimes the character needs to find partners to finish a quest instead of fighting alone. The simplest way is to give out a notice to find someone to form a team in the chatting channel, and World Channel is available only to the characters above level 10. You can also select a player, right-mouse click on its portrait on the interface and select" Team up", and then wait for response. If your character was invited, a dialogue would appear for you to choose to join or not. Making a team is a good way to make friends. You can choose your teammate or other characters, and right-mouse click their avatar then choose" Add to friend list". Another way is to press "F" to open your Community, click Add and put the name of other players in it, then this player is in your friend list. You can also open this interface to check your friend list. Block means black list.
For more details, please go to http://www.talismanonline.com/gameSystem_communityTeam.html (Press Ctrl when click) to have a look.
How to trade
When you pick something unsuitable for your character's profession while others have the things you need, then you can trade with the player.
Select the player you want to trade with, right-mouse click on his portrait and select "Trade". After he agrees to trade with you, select the item and draw it from your item box into your trading column. After the two sides both clicked "Lock", then click "Trade".
When your Item box is full, you can not get rewards nor pick things successfully. In that case, you need to find the Warehouse Man in some towns and put your items there. Select the Warehouse Man and click "Warehouse", the related interface will appear. Draw the items from your item box into it to store. You can also deposit money there, choose Deposit on the related interface, then write the amount will be ok.
For more details, please go to http://www.talismanonline.com/gameSystem_trade.html (Press Ctrl when click) to have a look.
How to merge
When reaches level 10 and completes a related quest, the character will be rewarded one Talisman. Then you should merge it with the old one to make a new one in this style. Two Talismans which are in the same style can Merge. New Talisman will have the first Talisman's level and corresponding attribute and the second Talisman's additional attribute; Merge will help the players to greatly reduce the time and Energy needed by Enhance Talisman.
In addition, character can also learn living skills from Blacksmith and Apothecary, each character can learn two skills at best. With certain living skills, you are able to collect different materials and make useful things yourself.
For more details, please go to http://www.talismanonline.com/gameSystem_itemForge2.html (Press Ctrl when click) to have a look.
One special ability of Tamer
Tamer will get a Pet Capture Bell after finishing one quest, then with this bell, all Tamers can catch a pet to help it kill other monsters. First, choose the target you want to catch and right-mouse click the bell, then it will become your own pet and follow you faithfully.
Much more interesting things are waiting for you in this game. Hope you enjoy it!